1 projection + 2 monitors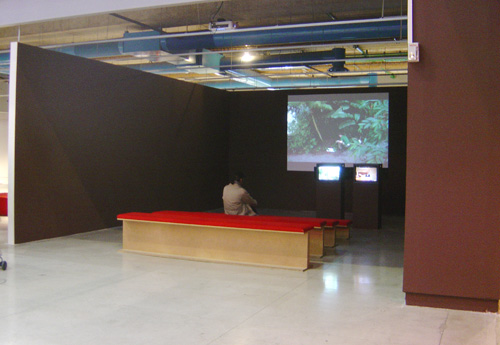 Exhibition view, Centre Pompidou, Paris, 2008.
« Be seeing you » is a film project whose starting point is a quite particular place: «Tropical Islands ». Built in the eastern German countryside on a former German then soviet military base, this gigantic dome (the world's largest self-supporting hall) presently houses a tropical theme park. The ambient temperature is 25 °C and the water in the tropical sea is a pleasantly warm 30° C surrounded by an indoor rainforest. « Bring the Tropics home » was the founding idea of the investors, bring them to the place where you'd least expect them, Germany. The film, like an essay or a still travelogue, explores strikingly contrasted aspects of the situation: the landscape, the inhabitants and their history outside the dome confronted to the scenery, the actors and representation of the exotic inside.
_ _ _ _ _ _ _ _ _ _ _ _ _ _ _ _ _ _ _ _ _ _ _ _ _ _ _ _ _ _ _ _ _ _ _
"Bonjour chez vous" est un projet de film qui a comme point de départ un lieu singulier : Tropical Islands. Construite en rase campagne dans le Nord-Est de l'Allemagne, sur une ancienne base militaire allemande puis soviétique, cette gigantesque capsule abrite désormais un parc d'attractions tropicales où règne une température moyenne de 25°C et une eau à 32°C, bordée par une forêt tropicale. "Amener les tropiques à domicile" était l'idée fondatrice des investisseurs, les amener là où on les attend le moins. Le film, entre essai et récit de voyage immobile, explore divers contrastes aux limites de l'absurde : le paysage, ses habitants et leur histoire à "l'extérieur"; les décors, les acteurs et les représentations de l'exotisme à "l'intérieur".
_ _ _ _ _ _ _ _ _ _ _ _ _ _ _ _ _ _ _ _ _ _ _ _ _ _ _ _ _ _ _ _ _ _ _